Hey everyone. Nadine back with another great post for my Home and Garden blog.
As I said before in my introduction post, I love all things home and garden.  Unfortunately however, I don't currently have any garden space so am left with creating window boxes to get out all my gardening fulfillment.
Window box planting tips.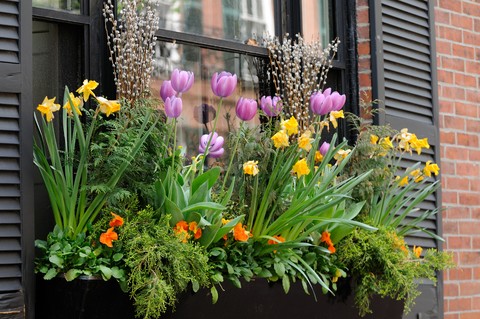 Evaluate the area
The first thing you have to do is to evaluate the area that the Window box will be in.  Is it sunny or shady, does it get windy? How high up is the window? Are there any pests or animals nearby that will be attracted?
Choose your plants and flowers.
Next you have to choose the flowers and plants for your window box based on the considerations discovered. You should also pay attention to things like bloom season – do they bloom all year round? Bloom time – are they going to bloom in the morning when the window box is shaded?
You'll want to pick perennials to bloom all year round so that the box doesn't look tired for 3 out of 4 seasons.
Line your box.
The next thing to do is to line your window box.  I like to use a black bin bag but you can use anything that works for you. The lining serves 2 purposes.  Firstly it protects the box and helps it to last longer, and secondly it makes it easier for you to change up year after year.
Add Potting mix.
Do not, and I mean DO NOT use potting soil or dirt. Look for a lightweight organic potting mix with moisture retention.  This means that the soil will be much lighter and won't put as much pressure on the window.  The Moisture retention means that if you go away for a couple of days then you don't need to worry about watering as much.
Cutaway excess plastic